PayPal Order Ahead -Search Interaction Design
Explanation of the interaction design for the Order Ahead section of the PayPal app.With the implementation of a 2-field search function into the app, many new use cases arose, and this document shows examples of designs to handle the main cases and several edge cases as well.
2016 PayPal
Federal Compliance Project Wireframes

PayPal CIP project timeline and information architecture wireframes I created for planning the approach, and a summary of the project direction.
2017 - 2018 PayPal
(PDF Download) PayPal CIP Project Wireframes

Competitive Analysis

Design exercise to evaluate existing Vocabulary flashcard applications, in preparation for building a new app in this space. Compared three existing tools (Quizlet, Cram and Magoosh Vocab Builder) on Android.

Sept 2018
Persona

Design exercise in prep for designing and building a Vocabulary flashcard application
Sept 2018
Vocabulary Mobile App Project Overview

This presentation is an overview that describes the various steps of product development for a mobile app, from concept to prototype. Details of each step are provided to give an idea of the work involved in turning a concept into an app.
Competitive Analysis
User Research
Personas
Information Architecture
Wireframe
Prototype
Usability Testing

Mobile App High-fidelity Mocks

High Fidelity mocks for flashcard app. These mocks represent the culmination of the app creation steps outlined in the overview above. Using what I learned in the sketches, interviews and research, I designed this set of screens for the QuickStudy study mobile app.

Desktop + Mobile Invoice Feature Addition

Add features to the invoice to allow the user the ability to:
• pay a partial payment
• provide a tip
2018 Concept Mock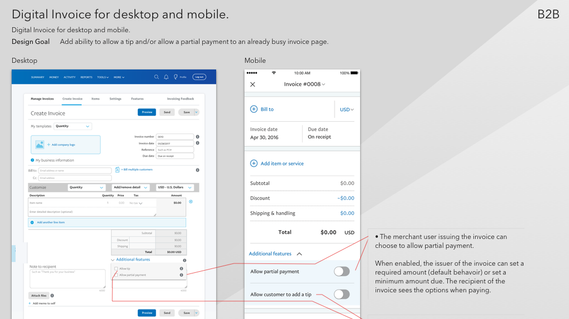 Desktop Firewall App
This firewall app dashboard page is designed to provide immediate critical alerts and events and give the user the ability to easily dive deeper into real time issues.
2019 Concept mock

EMC Network Sniffer App
2010 - I designed this iOS app for the VCE Coalition (at EMC)'s sales team to show visitors to the VMware tradeshow how simply a mobile app could explore the user's network, and create an instant report of their existing hardware, which, when combined with some additional hardware components, and software to get their locally hosted data centers into the cloud.